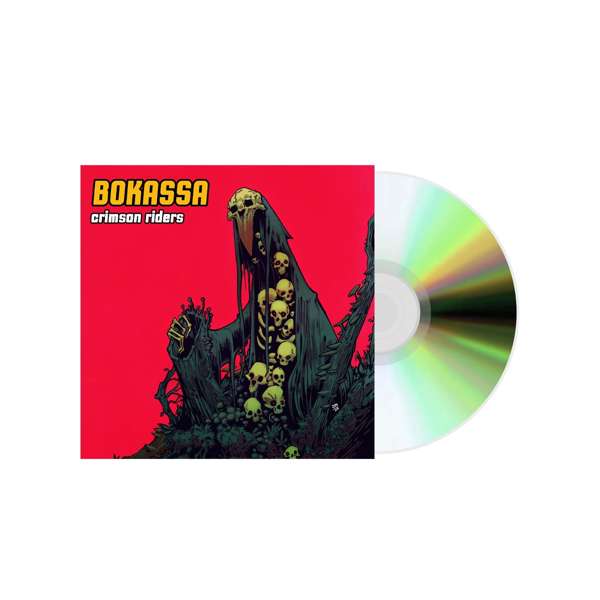 Crimson Riders – Digipack CD
BOKASSA fuse stoner rock riffs and groove with the energy and volatility of punk and hardcore, into their own unique brand of stonerpunk. Their 2017 debut album, 'Divide & Conquer' was lauded by critics across the globe. Metal Hammer UK hailed it as one of the best debuts of 2017, describing them as "intense, unpretentiously creative, and relentlessly rhythmic."
'Crimson Riders' was recorded back home in Trondheim's Brygga Studio, with production by Yngve Andersen (Blood Command), mixing by Simon Jackman, and mastering by the legendary Brian 'Big Bass' Gardener. BOKASSA enthuse, "We are very excited to release 'Crimson Riders'. Nine songs which revolve around everything from cults, religion, and border patrols to beer-drinking anti-heroes and immortal space pirates! Sonically, the album gives the listener everything from classic stoner-punk tracks, groovy desert songs, and high speed trash metal, to hardcore-oriented sing-a-longs. This time we also played around with both cellos and saxophone in the studio so expect a few curveballs here and there."
Track listing for 'Crimson Riders':
Brologue
Charmed & Extremely Treacherous
Vultures
Mouthbreathers Inc.
Wrath Is Love
Crimson Riders
Captain Cold One
Blunt Force Karma
Immortal Space Pirate 2
EU Customers – VAT has been deducted from the price of this product. You may now be charged local VAT, Customs Duty and handling fees on delivery.